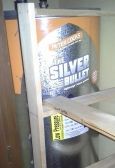 We can evaluate your existing hot water system and suggest improvements to make it more economical and efficient. This could be a straight replacement, changing low pressure to high, or upgrading to gas. We can work through the options with you to provide the best solution.
Replacing hot water cylinders is something we are very efficient at with a streamlined system in place to have it done in just a few hours from start to finish including electrical connection if required.

Planning an upgrade of your bathroom, kitchen, laundry or toilet? We can help with that too and if required project manage all related trades to ensure one point of contact throughout the process, including council consent.